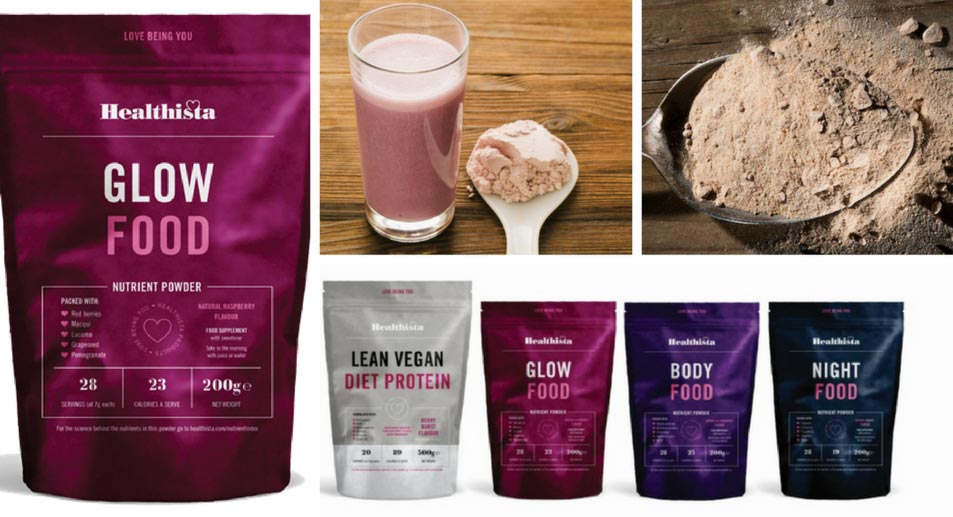 HEALTHISTA'S HEALTH PROTEIN POWDERS
Healthista is a health site dedicated to your health and wellbeing. Their network of journalists, editors, bloggers, experts and producers bring you health news, features, blogs and videos that make it easier for you to look and feel better. Check out their fantastic website that is bursting with tips, recipes, advice, basically everything for a healthy and happy lifestyle.
Healthista's new hotly anticipated health protein powders are ready for you to try! They are free from any artificial additives and full of essential nutrients.
Lean Whey & Vegan Diet Protein
A nutritionally balanced food supplement to assist weight management. Formulated with whey protein concentrate, whey protein isolate and sunflower seed protein shake in a natural creamy vanilla flavour, also available in natural berry and rich chocolate flavours. They have been called: 'The best tasting vegan protein powders on the high street' by users!
Glow Food
An antioxidant blend packed with red berries, macqui, lucuma, grapeseed and pomegranate.
'This stuff really makes a difference to how my skin looks – the texture and tone have improved and my spots have definitely reduced' – Sophie, 31 Healthista Glow Food customer.
Body Food
This superfood powder will be your new favourite gym buddy. Take Healthista Body Food before and during exercise in your water for a science-proven metabolism boost.
An antioxidant blend to help boost metabolism and circulation packed with yerba mate, green coffee bean and maca extract which may help with energy production and thermogenesis (fat-burning).
Night Food
An antioxidant blend of calming and balancing nutrients, packed with chamomile, lemon balm, cinnamon and ginger to help support the nervous system, balance blood sugar levels and help promote relaxation.
We now have all the flavours in store for you to try, on the top shelf behind the counter.