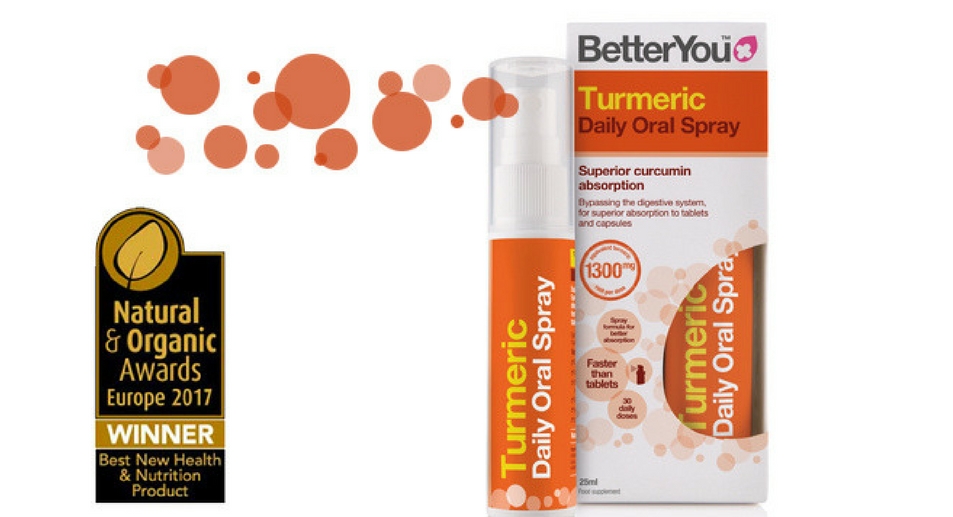 BetterYou Turmeric Daily Oral Spray
BetterYou Turmeric Daily Oral Spray is a fast, superior absorption turmeric supplement spray that delivers therapeutic levels of curcumin. And it has just been awarded 'Best New Health and Nutrition Product' in the Natural and Organic Awards 2017.
Turmeric is well known for its health benefits; it contains bioactive compounds, called curcuminoids, which offer medicinal properties – the most potent of which is curcumin. Curcumin is the main active ingredient in turmeric and is a potent anti-inflammatory antioxidant with numerous health benefits.
It has been specially formulated to be absorbed directly into the bloodstream, bypassing the digestive system. The tiny droplets absorb quickly in your mouth providing faster nutrient absorption than tablets and capsules. Turmeric, and its component curcuminoids, is notoriously poorly absorbed within the gut with as little as 1% being absorbed into the body.
Each daily dose (4 sprays) contains 1,300mg equivalent turmeric root with a natural orange flavour.
Benefits of Turmeric Oral Spray:
• World's first turmeric supplement in oral spray form, one of the best ways to take turmeric
• 1,300mg equivalent turmeric root per dose
• Unique molecular encapsulation process – Cyclocurmin®
• Improved absorption by bypassing the digestive system
• Each pack contains 120 sprays – 30 days supply
Directions: Take 4 sprays of Better You turmeric spray daily. Shake well before every use. When using for the first time depress the pump 3 times to prime and carefully spray against the inner cheek. Research has found this to be the most absorbent area. Replace the cap after use. Once opened use within 6 months. Turmeric spray does not have to be taken with food or at a set time of day, find a time that fits best with your daily routine.
Suitable for vegans, vegetarians, diabetics and coeliacs, also safe to use during pregnancy and breastfeeding.