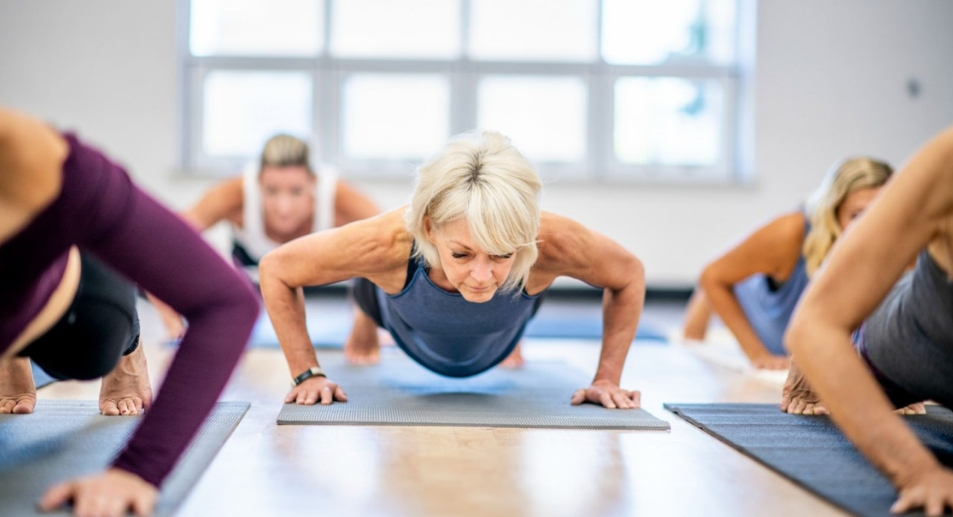 OSTEOPOROSIS
YOUR DIET & EXERCISE CAN AFFECT YOUR BONES
As people get older their bones can become weaker, and this is especially true for women after the menopause when the bone-protecting hormone estrogen drops off significantly. More than three million people in the UK are estimated to have osteoporosis, a condition that causes around 500,000 broken bones every year – that's nearly one a minute. Here are a few tips to help reduce your risk:
WEIGHT-BEARING EXERCISE
Contrary to what many people believe, exercise is one of the best things you can do if you've been diagnosed with osteoporosis. When you're doing weight-bearing exercises, you are resisting gravity's pull. This puts positive stress on your bones and can help them maintain bone density.
VITAMIN C & GREEN VEGETABLES
Pile those vegetables high. Vitamin C is vital for the body's formation of collagen, which makes bones resilient and flexible. Green leafy vegetables, such as, broccoli, kale, spinach and Brussel sprouts, contain vitamin K which helps to build strong bones.
SAY NO TO SALT
Research has found that postmenopausal women with a high-salt diet lose more bone minerals than other women of the same age.
DRINK ALCOHOL & COFFEE MODERATELY
Here moderation really is the key. Excessive alcohol is a known factor for osteoporosis. A cup of coffee makes you lose up to 150mg of calcium in your urine and it is known that drinking more two cups of coffee a day can significantly increase the risk of hip fractures.
DITCH THE FIZZ
Studies have shown that carbonated drinks, and this even includes fizzy water, cause us to lose calcium from our bones. Fizzy drinks contain high levels of phosphorus and when they rise in your blood, a message is sent to your brain telling it that there is not enough calcium. The result is that your body draws calcium from your bones and teeth to balance the high levels of phosphorus and if this happens regularly; your bones can begin to weaken.
APPLE CIDER VINEGAR
Research now shows that adding cider vinegar to food can increase calcium absorption. Use it in salad dressings or as a drink – sip 1tbsp of apple cider vinegar and honey in a cupful of warm water up to three times a day.
DROP THE ANTACIDS
Blocking stomach acid increases the risk of osteoporosis. You need stomach acid to be able to absorb calcium, along with other vitamins and minerals. Studies show having too little acid, as opposed to too much, is a more common trigger of digestive problems anyway, so look into this as an option if you are taking antacids regularly.
VITAMIN D AND MAGNESIUM
While this vitamin can be found in foods such as oily fish, eggs and liver, your best bet for a decent dose of this bone-building nutrient is exposure to sunlight. Experts recommend between 20 and 30 minutes of sunbathing with your forearms and legs exposed in the UK summer sun. Vitamin D and magnesium also work together in maintaining bone health. Magnesium, which aids the absorption of calcium, can be found in nuts, pulses and green, leafy vegetables, or you could try taking a supplement.
LOW GI FOODS
The glycaemic index is a measure of how quickly the food you eat turns into glucose in the bloodstream. Put simply, the slower the better, and so avoiding refined starches and sugars (white bread, sugary drinks) and focusing on low-GI foods like proteins, vegetables, beans and good fats like olive oil, avocados and nuts will prevent your insulin levels spiking which causes an increased risk of osteoporosis. A high-fibre diet will help, too.
PREVENTION, DIAGNOSIS AND TREATMENT
The good news is there are many steps that can be taken to prevent and diagnosis osteoporosis. It's now a largely treatable condition and, with a combination of lifestyle changes and appropriate medical treatment, many fractures can be avoided.
Links to further reading:
https://www.nhs.uk/conditions/osteoporosis/
https://100health.lnk.je/osteoporosis/
https://www.iofbonehealth.org/what-is-osteoporosis