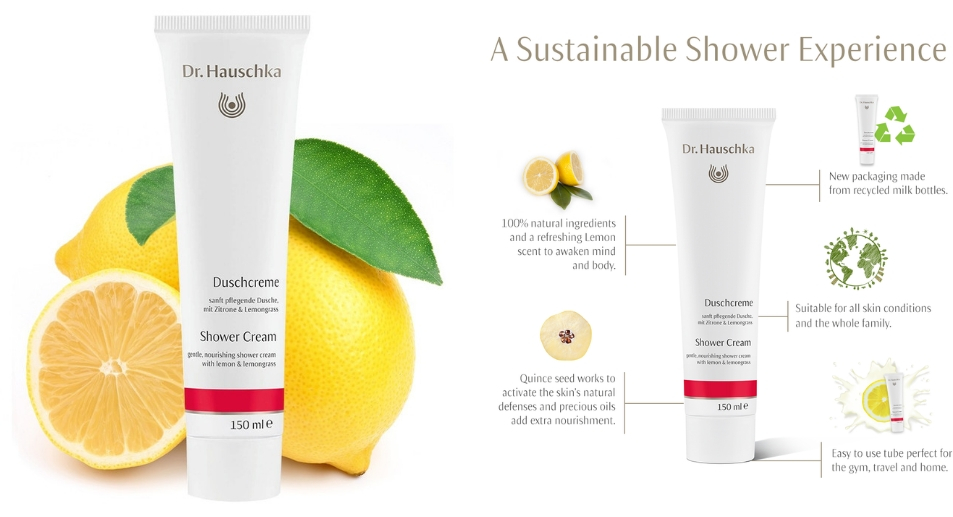 DR HAUSCHKA'S NEW SHOWER CREAM
REFRESHINGLY SUSTAINABLE
100% natural and made with certified organic ingredients, Dr Hauschka's new Shower Cream is gentle and creamy, slightly foaming and has an invigorating, enlivening scent – formulated with their classic Lemon Lemongrass.
Here's what sets it apart:
•  Its packaging is made from PCR (post-consumer recycled) materials, including old milk bottles, to help us and you minimise your environmental footprint.
• It is formulated with their classic Lemon Lemongrass scent making it perfect for use in the morning to help awaken senses.
• Its lightweight, easy to use tube makes it ideal for travel and taking to the gym. No bulk or leaking lids.
•  It contains protective Quince Seed extract which works to activate the skin's natural protective barriers.
• Caring essential oils and nourishing cleansers then work together to create a luxurious shower experience.
• Its gentle formula makes it suitable for all ages and skin conditions.
Now available in store.