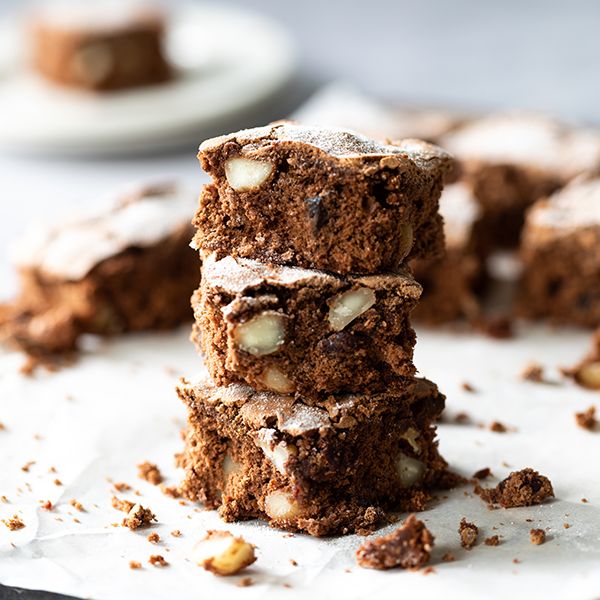 SPELT BROWNIES
A special occasion brownie, made with white spelt flour, ideal for a seasonal celebration. Soak the prunes in fruit juice or amaretto to add a nutty flavour. We've added non-dairy/vegan alternatives to this recipe.
INGREDIENTS
100g Prunes
50g Dried cranberries / dried sour cherries
3 tbsp Amaretto or fruit juice
250g cane sugar
4 eggs / Egg replacer – ie. Orgran)
75g double cream / Oatly Creamy oat)
150g White Spelt Flour
200g high quality plain chocolate
75g macadamia nuts, halved
75g pecan nuts
butter/ margarine/ coconut oil , for tray
Equipment needed: 20x30cm/8×12″ baking tray, electric beaters and mixing bowl
COOKING TIME – 30-35 minutes
METHOD
Rub butter /coconut oil around the inside of a 20x30cm/8×12″ baking tray or insert a baking liner.
Cut the prunes into quarters and put them into a bowl, add the cranberries/cherries and amaretto or fruit juice, cover and leave for a couple of hours or overnight.
Put the sugar into a mixing bowl, add the eggs/egg replacer and beat well with electric whisk
Beat in the cream.
Sieve the flour into the bowl and stir to combine.
Pre-heat the oven 180°C / Fan 160°C, 350°F, Gas mark 4
Gently melt the chocolate, add it to the bowl and beat well.
Stir in the soaking fruit, macadamia and pecan nuts.
Tip the mixture into the prepared baking tray, spreading it out to the edges.
Bake for 30-35 minutes.

Leave the brownie in the tray to cool then cut into squares or rectangles.