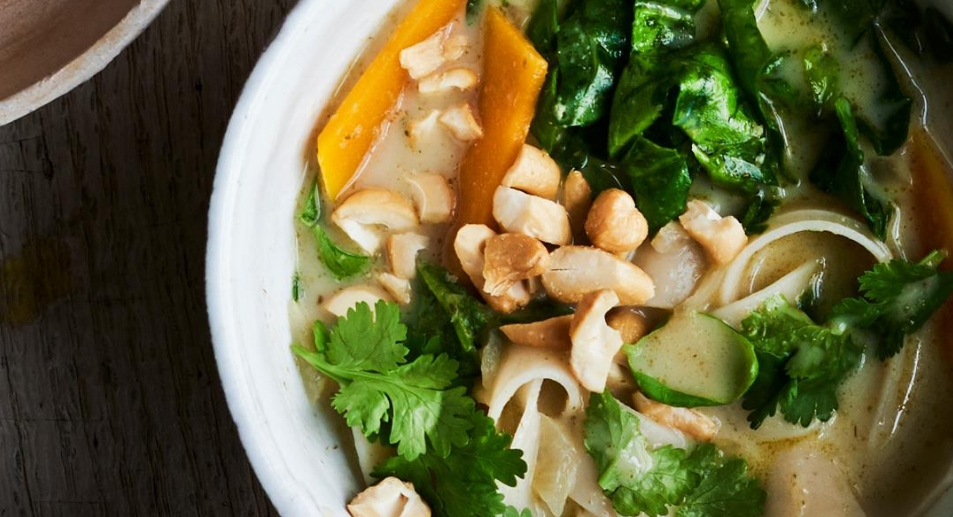 IMPRESS WITH THIS EASY RECIPE
Family to feed? Want to impress someone? Need a hit-the-spot homemade food that you don't have to slave over? Rude Health has got you covered in rudely alternative style. Introducing 5 recipes, 5 steps and 5 ingredients – each made with a different drink from their rainbow range of dairy-free drinks, means dinner is sorted. This Coconut and Butternut Green Curry Soup is delicious and fragrant –  a restorative soup and perfect for a quick nourishing meal – and we promise you it will impress!
Coconut and Butternut Green Curry Soup 
SERVES 4
Ingredients
• 100g Thai green curry paste
• 800 ml Coconut Milk
• 1⁄2 a medium butternut squash (about 400g), peeled and finely sliced
• 100g flat rice noodles (they used brown rice ones)
• 50g spinach or leafy greens, shredded
• From the store cupboard: 2 cloves of garlic, 1 onion (red or white), coconut or groundnut oil, vegetable stock cubes or powder, light soy sauce.
Method
• Finely slice 2 garlic cloves from your store cupboard, and peel and finely chop your onion. Add a tablespoon of oil to a deep saucepan and let it heat up a little, add the onion and garlic and cook for 10 minutes until soft and sweet. Next, add the curry paste and cook for 2 minutes, stirring all the time.
• Now add the coconut milk, 2 teaspoons of vegetable stock powder, 400ml of boiling water from the kettle and finally, the squash. Bring to a boil and leave this to simmer gently for 10-15 minutes.
• Fill another pan with boiling water and cook the noodles according to packet instructions then drain and divide between 4 serving bowls.
• When the squash is cooked, this should take about 20 minutes, turn off the heat and mash a few pieces of squash to thicken the broth. Next, add the greens to the soup, allowing them to wilt. Check the seasoning of the soup, adding salt and pepper.
• Drain the noodles, then divide them between four deep soup bowls. Ladle over the soup and vegetables, garnishing with one or more of the optional extras, if you wish.
• To finish (optional): chopped roasted peanuts, coriander or basil leaves, a squeeze of lime.