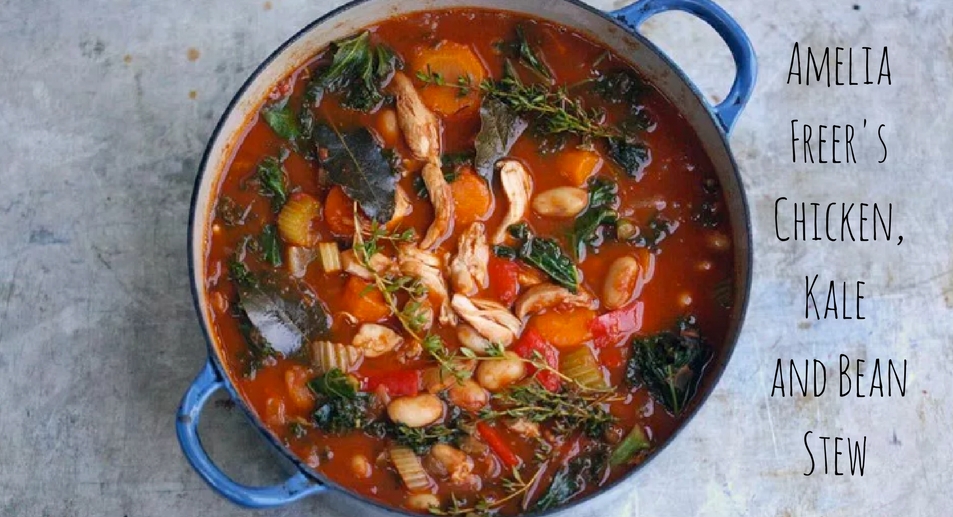 Amelia Freer's one-pot wonder will satisfy every sense
Expert nutritional therapist and best-selling author, Amelia Freer, is one of our firm favourites and we devour her cookbooks for inspiration. Her no-nonsense approach to eating and cooking is based on her strong belief in the healing powers of food – the right food is the most powerful form of medicine.
Amelia Freer says of her Chicken, Kale & Bean Stew Recipe:
'This is the kind of hearty autumnal stew that brings me lovingly into the colder seasons – this one-pot meal can feed my house for days and the flavours only seem to improve a day or two after its made (if it were ever to last that long!). If you have homemade chicken stock this is the place to use it, but if not a good shop bought one will suffice. I often roast a chicken at some point in the week and keep the left-over meat for this.'
Serves 8-10
Ingredients:
• 2 tbsp extra olive oil
• 6 chicken thigh fillets, cut into bite-size pieces
• 2 large onions, sliced
• 5 clove garlic, sliced
• 3 sticks of celery, sliced
• 2 medium carrots, peeled and diced
• 1 ½ tbsp sweet paprika
• 1 tbsp hot paprika
• 1 tsp cayenne pepper
• 2 tins of cherry tomatoes
• 2 tins of butter or cannellini beans, drained
• 1.5L chicken stock
• 4 bay leaves
• a few sprigs of thyme
• 1 red pepper, diced
• 1 medium bag of chopped kale (180g)
• salt and pepper
Method:
• In a large heavy-bottomed casserole dish or large saucepan, heat the oil and brown the chicken pieces in batches for a few minutes on each side. Set aside.
• Using the same pan, add a little more oil if needed and sauté the onions, garlic, celery and carrots for 6-8 minutes until softened, add both paprikas and the cayenne and cook for a minute or two, with a splash of water if it looks like catching on the bottom.
• Add the chicken, and toss to coat, then add tomatoes, beans, stock, bay leaves and thyme. Bring to the boil, lower the heat and simmer for 30 minutes, add the peppers and kale and cook for a further 10 minutes until tender.
• Season to taste, scatter with parsley and serve.