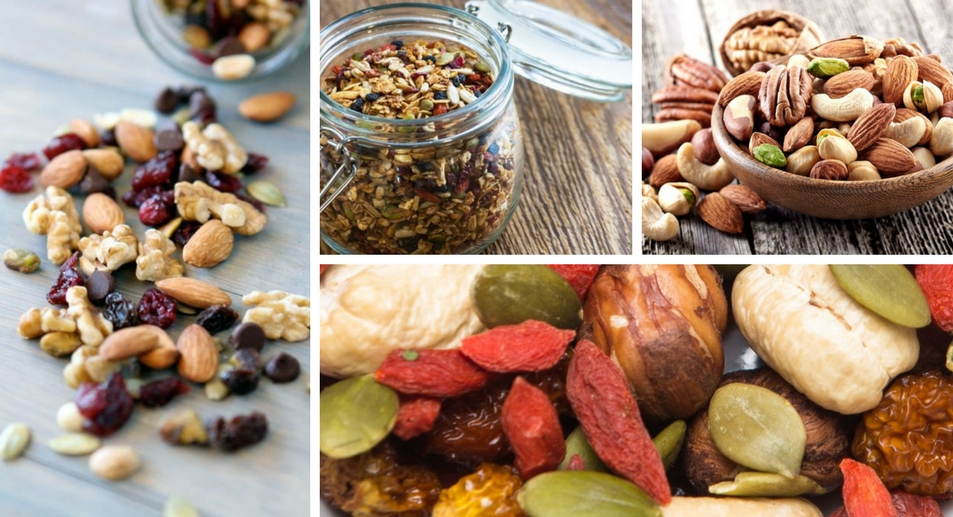 Trying to cut back on sugar?
Whatever your mood or activity of the day is, when you are prepared with the right food, it makes for better decisions and a more productive day – and less sugar! 
Why not prepare your own snacks or a trail mix to stop the temptation of tucking into the crisps and biscuits? We have an abundance of nuts, seeds and dried fruits to make healthy and nutritious snacks that will help you get through your day the right way.
We have listed some ingredients and a couple of tips to think about when making a homemade trail mix:
• Nuts are packed full of nutrients and loaded with healthy unsaturated fats, protein, fibre, antioxidants, vitamin E and other essential vitamins and minerals. Whether they're raw or roasted, go for unsalted and unsweetened to keep sugar and sodium under control. Good choices are: almonds, pistachios, cashews, peanuts, and walnuts. Higher-calorie macadamia nuts, hazelnuts, Brazil nuts, pecans and pine nuts are also good options but in moderation.
• For those with nut allergies, seeds provide many of the same nutritional benefits as nuts. A good handful of pumpkin, sunflower, sesame, flax or hemp seeds will add an extra boost of nutrients. For example, hemp seeds are loaded with omega-3 fatty acids, gamma linolenic acid, protein, zinc, iron, magnesium, potassium, phosphorus and calcium.
• In moderation, dried fruit can be a great source of fibre, antioxidants, calcium, and vitamins A, C, and K. Look for dried fruit options with as little added sugar and preservatives as possible (some varieties, like cranberries, are naturally quite tart and almost always sweetened with cane sugar or apple juice).
• Sometimes we all need a little something sweet. Add a sprinkling of cacao nibs, yoghurt-covered raisins, chocolate-covered goji berries or dark chocolate-covered nuts, again in moderation.
• What about adding some spices to mix the flavour up even more? Try seasoning the mix with sea salt, curry powder, ground ginger, cinnamon, nutmeg, cardamom, cayenne pepper, garlic powder or onion powder.
• And keep your taste buds guessing and tantalised – a healthy pic'n'mix – with wasabi peas, coconut flakes or stem ginger.
Add any of these ingredients to a glass jar or container that suits your lifestyle, and you can snack on goodness throughout the day – just shake and nibble.