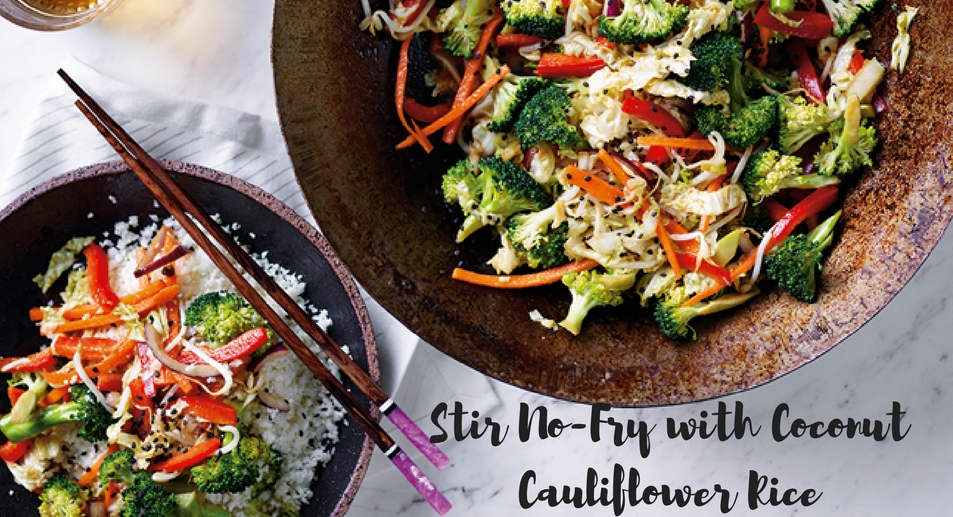 Stir No-Fry with Coconut Cauliflower Rice Recipe
Whether you are vegan, vegetarian or following a raw diet, this raw 'stir no-fry' recipe from Maz Valcorza's cookbook The Naked Vegan, is a real winner for everyone this summer. It is a super colourful, delicious and quick option for dinner – all you have to do is chop up the veggies and whiz up the zesty dressing!
Serves 4
Ingredients:
Lime & Tamari Marinade
• 125 ml extra virgin olive oil
• 2 teaspoons sesame oil
• 1 lime, juiced
• 1/3 cup tamari
• 2 tablespoons finely chopped fresh ginger
 Veggie Mix
• 125 g broccoli florets
• 1 red capsicum (pepper), seeded and finely sliced
• 90 g carrot, julienned
• 115 g bean sprouts
• 30 g bok choy, shredded
• 40 g savoy cabbage, shredded
• 1/2 red onion, finely sliced
• 1 garlic clove, crushed
 Cauliflower Coconut Rice
• 500 g cauliflower, cut into florets
• 45 g desiccated coconut
• 1/2 teaspoon sea salt
 To serve
• 4 tablespoons black or white sesame seeds
• 3 tablespoons coriander leaves
Directions
•  Blend the marinade ingredients in a high-speed blender until well combined. Pour into a large mixing bowl.
•  Add all the veggie mix ingredients to the bowl. Toss together, then allow to marinate while you make the cauliflower rice.
•  Carefully pulse the cauliflower coconut rice ingredients in a food processor until the cauliflower resembles the texture of rice. Do not over process, or the cauliflower will turn into a puree.
•  To serve, divide the coconut cauliflower rice among four bowls and top with the veggie mix. Sprinkle with the sesame seeds, garnish with coriander and serve.