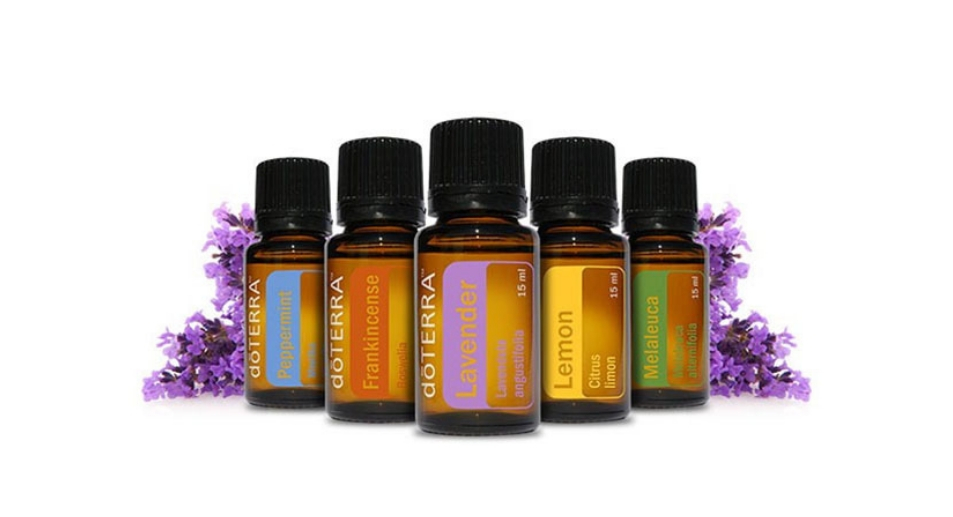 THE TOP 10 dōTERRA MUST-HAVE OILS
You could say we are a little excited that dōTERRA OILS ARE NOW AVAILABLE IN STORE!
If you are an essential oil lover, then you are going to fall in love with the powerful and magical dōTERRA oils. Essential oil use is not a fad, but rather a long-time tradition started centuries ago in civilizations all over the world. The use of plant extracts and plant-based products is deeply rooted in cultural practices and traditions of the past. In fact, there is now increasing scientific evidence and research to show the effectiveness and safe nature of essential oils in our day and age.
Founded in 2008, dōTERRA was built on the mission of sharing therapeutic-grade essential oils with the world. Having seen for themselves the incredible benefits that can be had from using these precious resources, a group of health-care and business professionals set out to make this mission a reality. They formed a company and named it dōTERRA, a Latin derivative meaning 'Gift of the Earth'.
Jumping into the world of essential oils can be overwhelming when there are so many individual oils and blends to choose from. How do you know what you need? The following are some of the most popular doTERRA oils to date, mostly for their wide variety of uses and their appealing scents.
Here's a practical guide with useful tips for those oils so that you can get started. They are the most incredibly versatile tools to uplift and enhance your day-to-day, and to start meeting your own needs, be that physical or emotional. Have a carrier oil (like doTERRA's fractionated coconut oil) handy for diluting and remember to dilute extra for children.
Peppermint | cooling & revitalising
– rub onto temples to ease head tension and promote alertness
– rub onto back of neck + shoulders for a refreshing, zingy pick me up and ease muscles at the same time
– combine with water in a spray bottle for a cooling mist (great in the summer); add lavender for a soothing after-sun spritz on the skin that's been in the sun too long
– diffuse with lemon or wild orange at work for motivation and better concentration
– place a drop in palm of the hand, rub hands together and take a few DEEP breaths from cupped hands. opens up the airways and delivers a mega-dose of energy and freshness, perfect for that mid-afternoon slump
– inhale before exercise for the same reason as above, more breath = more oxygen
– use in baking, mix in a drop or two before baking
Lavender | soothing & calming
– add a drop or two to pillows at bedtime to support restful sleep
– dilute and apply to skin that's irritated, itchy, swollen, scratched or bitten
– apply neat on any burns
– diffuse at bedtime; add a few drops of frankincense too
– add a drop to facial serum
– add to a relaxing evening soak in the bath
Frankincense | grounding & centring
– rub onto temples along with peppermint and lavender (layer on one at a time) to reduce headaches or just improve focus
– inhale deeply from cupped hands to disperse anxious feelings, unwind that nervous system and feel supported emotionally
– inhale before or during meditation to sink in deeper
– add to facial serum (along with lavender) for radiant skin, healthy cell regeneration, reducing the appearance of scarring and blemishes
– use alongside on guard, tea tree and others for immune support when feeling under the weather
– diffuse with peppermint and a citrus oil while working or studying
Melaleuca (Tea Tree) | cleansing & purifying
– dab on directly to spots and pimples
– keep it handy for scratches, scrapes, bites, stings and skin abrasions
– dilute and apply to feet to keep fungal issues at bay
– for achy or problematic ears, dilute and rub behind and around the ear (never inside the ear)
– add a few drops to a spritzer with aloe gel for a non-toxic hand sanitiser
– diffuse with lemon and peppermint to cleanse and refresh the air and kill airborne pathogens
– add a few drops to your cleaning spray, mop bucket or laundry load for extra antiseptic properties
Lemon | zesty & uplifting
– add a drop to your glass of water to drink throughout the day to aid in digestion and detoxification (and makes drinking water less of a chore)
– combine with white vinegar for a glass and mirror cleaner
– add a drop to a damp cloth for removing sticky residue, cleaning silver or stainless steel – cleaning of any description, basically
– use as a food flavouring, add a drop to enhance flavour
– inhale or diffuse to lift mood and promote focus
 Oregano | nature's bacteria ninja
– use utmost discernment with this oil: always, always dilute as it's very strong and caustic to the skin
– use in immune-supporting blends to assist the body's defences (e.g. dilute in a roller bottle with Melaleuca, On Guard, Lemon, Frankincense) and roll onto soles of the feet periodically when feeling under the weather
– use to remove plantar warts or skin tags
– dilute and apply to anything fungal, cracked heels and athlete's foot
Air | enlivening & opening
– diffuse when feeling under the weather to support easier breathing and open airways (coughs + congestion)
– place a drop on a tissue and breathe it in as needed for respiratory support, or whenever you need to invite some more BREATH into your body
– diffuse at night with lavender, can help reduce snoring!
– dilute and apply to the upper chest before exercise or yoga
– drop a few drops onto the corner of the shower floor for a shower-steam-inhalation-sensation, a great way to start the day!
Deep Blue | aches & pains
– your brother-in-arms for muscle tightness, soreness and pain
– dilute and apply to muscles and tight joints to alleviate pain and tension
– use before and after exercise to help with soreness and recovery
– dilute further for kids with growing pains
– along with Clary Calm, can bring relief during menstruation (abdomen, lower back pain)
ZenGest | all things digestion
– dilute a drop with some carrier oil in the palm of your hand and rub clockwise onto belly to help reduce bloating, gas, discomfort after eating, cramping, upset tummy, reflux and nausea
– place a drop under the tongue for the same support as above
– drink a drop in glass or mug of water
– dilute more for kids when they have sore bellies, difficulty going to the toilet, colic and bouts of gastro
 On Guard | antioxidant & immune support
– diffuse to clean air of airborne pathogens and make your whole place smell of cosy festive vibes (that'll be the orange, clove & cinnamon!)
– dilute and apply to soles of feet as a protective measure/daily ritual and when in need, also dilute and apply to neck and down the spine
– make a natural surface cleaning spray: one-third white vinegar, two-thirds water, 15 drops of On Guard in a 300/500ml glass spray bottle
– make a soothing hot drink, particularly nice for sore throats: hot water (not boiling), some raw/high-quality honey, a tablespoon of apple cider vinegar, a drop of On Guard and a good squeeze of lemon (or a drop of lemon oil)
From reading this list, you can see what a wide variety of uses essential oils have, from the daily routines to the more occasional health concerns. As you use essential oils, you'll probably find that these oils are what you'll reach for again and again. (And we have barely scratched the surface of everything these oils, and the many other dōTERRA oils, can do!)
Keep in mind that every person is different. As you keep learning more about essential oils, you will also find that different essential oils can be just as or even more helpful to you personally. To kick off your continued research, we encourage you to follow the links to each individual oil to find out more about these must-have oils and the safety guide.
These statements have not been evaluated by the Food and Drug Administration. This product is not intended to diagnose, treat, cure, or prevent any disease.